Rather than an ending, commencement – both the word and the ceremony – represents a beginning. It is appropriate that an occasion which marks the beginning of a new phase of life should be conducted with pomp and circumstance, stateliness and tradition.
The ceremony of commencement celebrated at High Schools, Colleges, and Universities throughout the world has its roots in the scholastic traditions of the Middle Ages. It is an ancient, dignified, and highly symbolic ritual of conclusion and emergence, a rite of passage into a new life.
EVERYONE, including children of all ages, must have a ticket in order to be admitted to graduation.
Seating is limited. Tickets will be barcoded.
All ceremonies will be broadcast live on "The St. Lucie Education Channel" and streamed live on YouTube.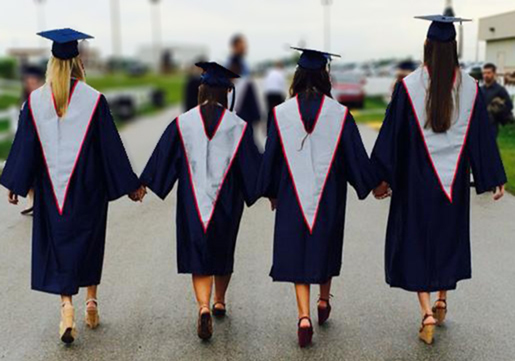 St. Lucie West Centennial High School
Tuesday, May 19, 2020 – 8:30 a.m. & 12:30 p.m.
at the Fenn Center
Ft. Pierce Westwood High School
Tuesday, May 19, 2020 – 4:30 p.m.
at the Fenn Center
Treasure Coast High School
Wednesday, May 20, 2020 – 8:30 a.m. &
12:30 p.m. at the Fenn Center
Lincoln Park Academy
Wednesday, May 20, 2020 – 4:30 p.m.
at the Fenn Center
Ft. Pierce Central High School
Thursday, May 21, 2020 – 8:30 a.m. & 12:30 p.m.
at the Fenn Center
Port St. Lucie High School
Thursday, May 21, 2020 – 4:30 p.m.
at the Fenn Center
Acceleration Academy
Thursday, May 28, 2020 – 8:30 a.m.
at Lincoln Park Auditorium
Performance Based Preparatory Academy
Thursday, May 28, 2020 – 9:30 a.m.
at Lincoln Park Auditorium
Mosaic Digital Academy
Thursday, May 28, 2020 – 10:30 a.m.
at Lincoln Park Auditorium