St. Lucie Public Schools is committed to the safe transportation of our students.
All of our buses include:
GPS Tracking
Video Monitoring Equipment
2 way Radio for Communication with drivers
Seat belts for our students
In addition, we have:
Here Comes the Bus app that allows tracking of your student's bus from a smart device or computer.
School Messenger system to communicate delays to parents/guardians as necessary.
Your students' safety is our priority.
View the real-time location of your child's bus
Access the app from your smartphone, tablet or computer
Receive push notifications or email alerts
Send your child to the bus stop at just the right time, every time
How to get started:
Download the Here Comes the Bus app or visit http://www.herecomesthebus.com
Enter school code 77914 and click "Next" followed by "Confirm"
Complete the "User Profile" box
Under "My Students," click "Add." Enter your child's last name and student ID number
Once you confirm your information, you're ready to begin using Here Comes the Bus!
If you need customer support for Here Comes the Bus:
Contact our transportation department at 772-204-RIDE (7433)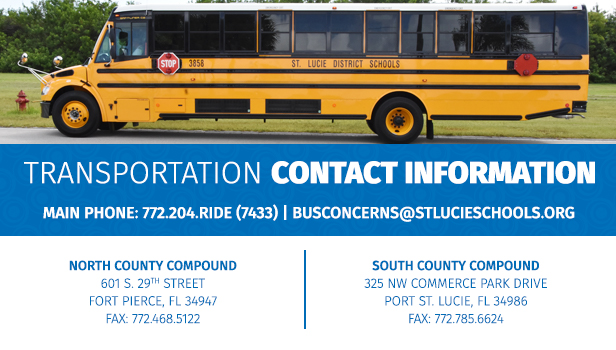 Resources
Safety and Rules
Pay Rider Plan
Analysis & Statistics
times safer than your family automobile
times safer than a passenger train
times safer than transit or intercity buses
Our core mission is to transport our children to and from their centers of learning in a safe, timely, efficient and academically supportive manner.
We are the first step in our children's educational journey. St. Lucie School Transportation runs the 75th largest fleet in the nation. All buses are equipped with two way radios and are monitored by on board cameras and satellite tracking devices. Bus routing is accomplished through a computer system designed to optimize bus efficiency. Bus stops are located to be in the safest, most central position for all eligible riders. All stops are located according to state and district guidelines with safety, timeliness and efficiency in mind.
Yellow school bus transportation is the safest, most economical and friendly method of transporting Florida's school children. Every day Florida parents send almost a million of their children to a local school bus stop… with peace of mind.
School bus drivers are required by law to receive more training than any other driver in the State. A School bus driver receives training in student management and first aid. A school bus driver's background is checked by the Department of Justice and/or the FBI prior to receiving a license to drive a school bus.
School bus stops are strictly regulated by laws. Procedures to load and unload the students are also regulated by laws.
School bus drivers are regulated by hundreds of additional laws governing the operation and maintenance of a school bus. School Bus drivers receive so much original and continual training, that a school bus driver can legally drive any bus on the roadways.
The accident and injury rate of yellow school buses in the United States makes the Yellow School Bus the safest ride in America!
All of our school bus drivers under go multiple trainings and certifications each year to ensure that the children of our community are transported each and every day with care, professionalism and the knowledge to help promote their individual school bus experience.
 Both drivers and aides are certified in the following:
State of Florida Basic School Bus Curriculum
Exceptional Student Education Training
On the Road Training by Certified Department of Education Instructors
C.H.A.M.P.S – Strategies to promote positive student behavior
Now Hiring
Bus Drivers
Starting at $13/hour
Bus Aides
Starting at $8.05/hour
We Train You!!
Have a clean driving record of 5 years
Pass the DMV written CDL exam with Passenger/School Bus/Air Brake Endorsement
Attend and pass the Transportation Training program (includes classroom and on the road training)
Pass Background Check, Drug Test, and Physical
Minimum required training is 40 hours
The safety of our children is the number one priority of the SLPS Transportation Department. Today's children contend with morning rush hour traffic, few sidewalks, and motorists with their minds elsewhere and their phones in their hands. Parents are the frontline protectors of their children.
Parents are encouraged to walk with or transport their children to and from bus stops.
Parents must ensure that their children arrive at the bus stop in the morning at least ten minutes prior to pick up time.
Parents are responsible for their children's safety and well-being on the way to and from the bus stops and while at the bus stops.
Parents are responsible for the proper conduct of their children on the way and from and while at the bus stops.
Parents are responsible for the conduct of their children, along with district personnel while the children are aboard the bus.
Parents are expected to cooperate with district personnel regarding the safe and effective transport of their children.
Parents are encouraged to contact the school or the transportation department when they observe unsafe conditions.
Every child should have a responsible parent or designated adult to supervise bus stop safety.
Reporting Unsafe Bus Behavior
When parents are negligent in this area, the Transportation Department depends on the community and its citizens to report safety concerns such as:
Playing or sitting in the street
Misbehavior or vandalism
Causing neighborhood disturbances
New construction beginning in the area of the stop
Unsafe drivers in the area of the stop
Illicit or illegal activities
Unattached adults lingering near the area of the stop
Any concern related to the safety of students
Citizens may contact the appropriate law enforcement agency if a crime is being committed or contact busconcerns@stlucieschools.org to assist in keeping all children safe at school bus stops.
K-8 Schools
Middle Schools
High Schools